Vincent Toro's debut poetry collection, STEREO.ISLAND.MOSAIC. (Ahsahta Press, 2016), was awarded the Poetry Society of America's Norma Farber First Book Award and the Sawtooth Poetry Prize. He is a Poets House Emerging Poets Fellow, a New York Foundation for the Arts Fellow in Poetry, and winner of the Caribbean Writer's Cecile de Jongh Literary Prize and Repertorio Español's Nuestras Voces National Playwriting award. Toro is a professor at Bronx Community College, a contributing editor at Kweli Journal, a writing liaison for the Cooper Union's Saturday Program, and participates in school programs for DreamYard and the Dodge Poetry Foundation.
When Dr. Grisel Y. Acosta and I started the Latinx Poetry Reading Series at Bronx Community College (BCC) back in 2016, our intention was to provide the students in our Latino Literature classes the opportunity to have direct contact with some of the writers they were studying. What began simply as a means of adding dimension to our curriculums quickly became so much more.
Ninety-six percent of the students at BCC are students of color. Sixty-three percent of that population is Latinx. A great many of these students are first or second generation immigrants. In contrast, the majority of the faculty is white, and outside of the Latino Literature classes, Latinx authors and texts are grossly underrepresented on class reading lists. This makes the school's Latino Literature classes one of the few places in which they can find themselves, their own cultures and histories, represented in the curriculum.
The lack of access to writing by, for, and about Latinx people extends itself beyond the campus and into the Bronx. As of 2016 (when Barnes & Noble in Co-op City closed its doors), the Bronx, a territory with 1.5 million residents, has exactly zero bookstores. Even our college lacks a physical campus bookstore (it was closed during the 2017-2018 school year). The message to the students, and to the Bronx community at large, is that literature—both that which reflects their experience and any other kind—should not be considered important in their lives.
Nevertheless, our students cannot contain their excitement when they begin reading Latinx texts in their classes. In all my years as an educator, the Latino Literature classes at BCC are the only classes where the students regularly do not want to leave when time is up. Students who formerly claimed to never read anything that wasn't assigned in a class suddenly ask me for further reading suggestions.
This enthusiasm is only amplified when we get them in a room with Latinx poets. At each of the BCC Latinx Poetry Series readings, I survey the audience to see how many of them are attending a poetry reading for the first time. As it stands, about ninety percent had never experienced a live poetry reading. Yet during these readings and the Q&A sessions that follow, they're riveted. They keep the poets there long after the reading is over to take pictures with them, get books signed, and ask more questions. This year, after an hour, I had to drag the poets away from students so they could catch their train. Many students have asked where they can find more poetry readings afterwards.
Clearly, there is a need for these kinds of literary and cultural events at the school and in the Bronx. But because BCC has an underserved population of people of color in an underserved borough of people of color, there are no resources to support these events. It is only with the assistance of Poets & Writers that we are able to provide compensation for our guest poets. Now in its third year, the BCC Latinx Poetry Series has hosted some of the most exciting and important Latinx poets currently working in the United States. We have been visited by Darrel Alejandro Holnes, Nancy Mendez Booth, Rosebud Ben-Oni, Bonafide Rojas, Raquel Salas Rivera, Roberto Carlos Garcia, and BCC's own Dr. Grisel Y. Acosta, who is a widely published author, associate professor in the English Department, and coorganizer of the reading series.
We are already in the early planning stages for next year's reading. It is our hope that the series will be around for many years to come and that over time its audience will build, drawing in more members of the college and the public while helping to fulfill the need for greater support of Latinx literature in the Bronx and beyond.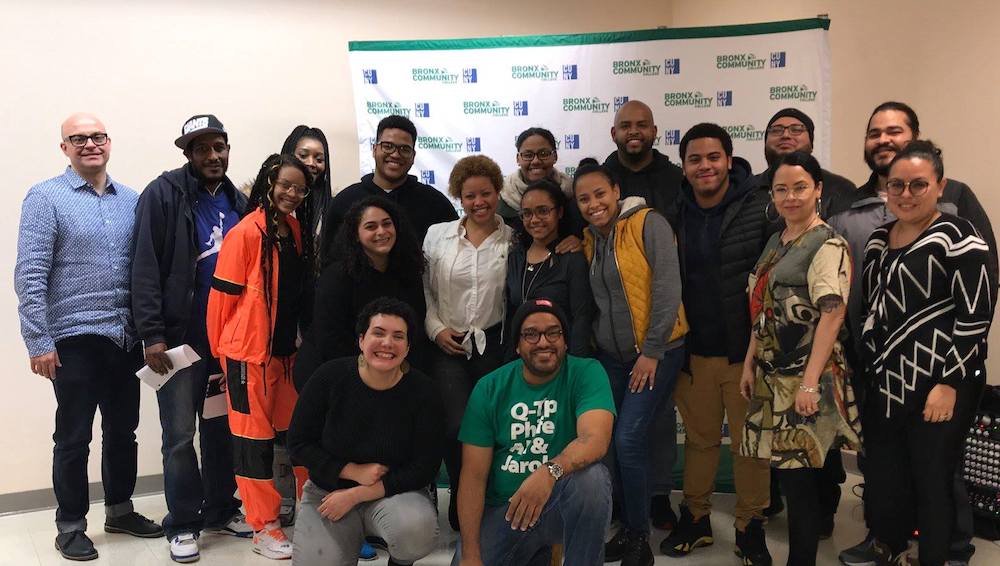 Support for the Readings & Workshops Program in New York City is provided, in part, by public funds from the New York State Council on the Arts, and the New York City Department of Cultural Affairs, with additional support from the Frances Abbey Endowment, the Cowles Charitable Trust, and the Friends of Poets & Writers.
Photos: (top) Vincent Toro (Credit: David Flores). (bottom) BCC students with Vincent Toro, Dr. Grisel Y. Acosta, and guest poets Raquel Salas Rivera and Roberto Carlos Garcia .