Anushah Jiwani graduated summa cum laude from Hendrix College with a BA in English–Creative Writing and International Relations. She is the 2018 recipient of the Maureen Egen Writers Exchange Award (WEX) for poetry sponsored by Poets & Writers. She took honors in the 2017 Southern Literary Festival Competition and won third place in the statewide 2017 Jeannie Dolan Carter Collegiate Poetry Contest sponsored by the Poets' Roundtable of Arkansas. Jiwani also won the Fourth Annual Short Fiction Contest sponsored by the Hemingway-Pfeiffer Museum and Educational Center in 2017. Much of her writing centers on the duality of her Pakistani American identity and aims to provide a space for the immigrant voice.
In May of 2018, I found out that I was the recipient of Poets & Writers' Maureen Egen Writers Exchange Award for poetry. In addition to a generous honorarium and a reading, Joshua Idaszak, the winner for fiction, and I would get the chance to meet with editors, authors, and publishers in New York City. Bonnie Rose Marcus worked tirelessly to arrange meetings, and welcomed us with open arms in November.
What I learned: editors, publishers, literary agents—they're all just ordinary people. They want to know about you, and it's as easy as one simple conversation. This prize creates the opportunity for that conversation to happen, with generous support from the team at Poets & Writers.
Through these conversations, many things became clear: internal relationships mattered, there would be little money in poetry, literary agents wanted novels over short stories, small presses are dedicated to their authors, and within all this business, community around writing was a precious thing.
Among others, I chose to meet with Paolo Javier, who works tirelessly to create community and accessibility around writing at Poets House, and Sarah Gambito, cofounder of Kundiman, who is seeking holistic points of entry and multidisciplinary forms for audience engagement.
These poets have been motivated by lack of opportunity or equity in the writing world, and are trying to create honest spaces for established and growing writers. We talked about embracing rejections, finding the right MFA programs, expanding community programs, the discipline required for publishing one's work, and our love for literature.
As a writer, I learned an incredible amount about the inner workings of the literary world through this trip. But what was more significant, personally, was being able to connect with other writers of color who shared their experiences about navigating and succeeding in this sphere.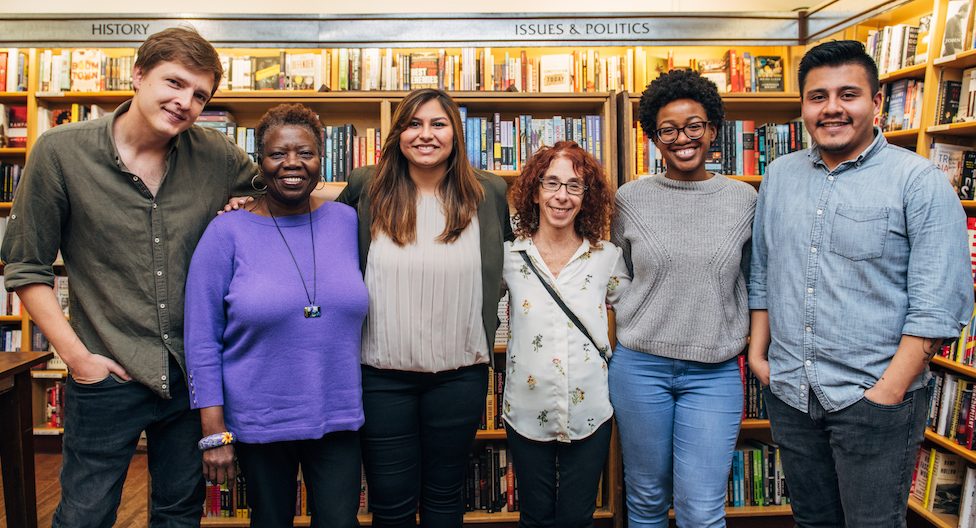 The Maureen Egen Writers Exchange Award is generously supported by Maureen Egen, a member of the Poets & Writers Board of Directors.
Photo: (left to right) Joshua Idaszak, 2018 WEX poetry judge Cheryl Boyce-Taylor, Anushah Jiwani, R&W (east) director Bonnie Rose Marcus, R&W fellow Arriel Vinson, and R&W program assistant Ricardo Hernandez (Credit: Christian Rodriguez).